Bio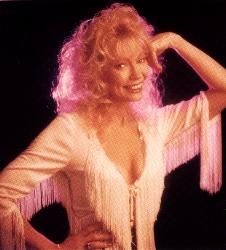 How does a girl from Kentucky start a career in country music? As Robin Right demonstrated, the answer is move to Massachusetts! Robin had to make the move years ago for medical treatment and began singing
professionally when jobs were scarce. Since making her home in New England, she has repeatedly won every honor the state's country music association offers, and has become a nationally recognized recording artist. Her live performances keep her in demand at venues ranging from fairs and festivals, to concerts, to international tours.
Robin grew up singing in church with her sisters. Their close harmony inspired folk around Williamstown, Kentucky to refer to them as the Everly Sisters. Later, Robin sang at a dinner theater in Virginia. The need for surgery brought her to Massachusetts in 1979 and she decided to stay. Although Boston was not thought of as a hotbed of country music, there was a thriving underground of fans that soon recognized her talent and showmanship.
Robin's recording career began when her first single, "Mama Can You Tell" won a national contest. Two more records gained her notice on the national independent charts, with "One Night A Week" reaching #9 and "Rose Cafe" hitting #1 in Indie Bullet Magazine. This led to her signing with Playback Records, home of Johnny Paycheck, Jeannie C Riley and Tommy Cash. The resulting album, "All Right!" was an immediate success. The first single, "I Like A Man To Drive," received nation-wide radio play, went all the way to #1 Independent Single in Cash Box Magazine, and charted in R&R.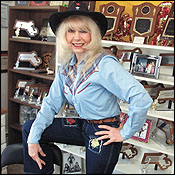 Robin has performed in every venue imaginable, from Boston's celebrated Hatch Shell to Billy Bob's Texas, and from Hollywood's Palomino Club to Union Station in Washington DC. She has rendered the national anthem at Foxboro Stadium for the New England Patriots many times, and sung for the Boston Celtics. Her concert tours have taken her to fourteen states, and abroad to Denmark, Norway, Sweden, Finland, Greenland, Germany, Holland and Australia. She has sung for US Secretary of Transportation Federico Pena, and appeared on the nationally syndicated radio shows, Jamboree USA and the Appalachian Jubilee. She has also done concerts with many country music greats, including George Jones, Roy Clark, Conway Twitty, Mickey Gilley, Roy Orbison, Box Car Willie, and Hank Thompson.
With her experience performing hot new country, and her roots in traditional country, Robin is uniquely qualified to entertain a wide variety of audiences. Her live show is filled with energy and showmanship. She can come down off the stage to play with the audience, and then make you cry to a soulful ballad. You don't have to be a fan of Country Music to become a fan of Robin Right - she will win you over. That's why the Worcester Telegram and Gazette called her "a force in regional country music."
"I was raised on a farm in Kentucky with everything that goes along with it. I've milked cows, taken care of horses, stripped tobacco, and pitched my share of hay," she laughs in her own accent, "being a country girl is not an act." Robin now lives in rural central Massachusetts with her husband, Fred. When not performing, she models, designs and makes her own costumes, cans her home-grown vegetables, camps, fishes and hikes.